PDT and PST are used to determine the daylight savings times, but both mean Pacific Time and California is an example of an U.S. State in the Pacific Time Zone. (State was named due to it's popularity.)
JAN 2015
FEB
MARCH
"Heavenly Lion of the Blue Sky" Collect the Fruit of the Sun to open Lucky Bag now!
Log in daily to get rewards! Certain days will allow you to collect the two newest friends to Tiny Zoo. -Log in does reset
APRIL
"Now's your chance to get the Legendary Animals and the Ancient Animals!"-Com2us Banner April 22nd 7pm- May 6th 7pm PDT Use the Mystic Egg to get the Legendary Animals and Ancient Animals or to get a chance to buy the Legendary/Ancient Animal Decorations!
MAY
JUNE
JULY
AUG
SEP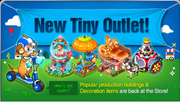 OCT
NOV
DEC 2015
New Year's Alphabet Dec 30th- Jan 14th 2015 6pm PST

Collect the Alphabet Eggs to spell out 'HAPPY NEW YEAR' and get the special New Years Blue Sheep as a reward!

2016 Events Next Events