Welcome to the Tiny Farm Wiki
A fan created a Wikia for the mobile app Tiny Farm. The app was created by Com2uS for iOS, Android and Facebook.
"For a farm so small it fits in your hands, Tiny Farm is jam-packed with sweet surprises and endless possibilities!"
Tiny Farms was born on the 15th September of 2011!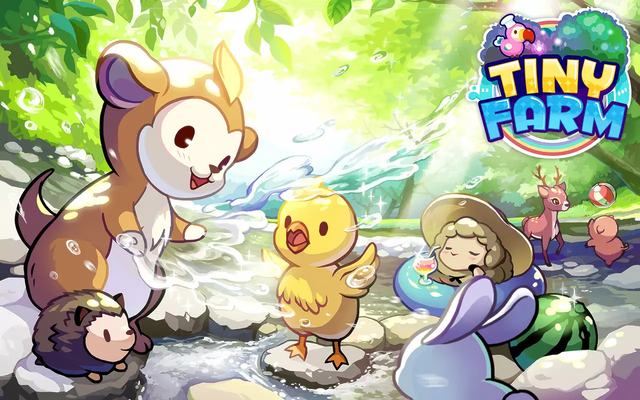 The Fourth map of adventure has been added to Tiny Farm!
New types animals have been added to the farm!
Ben, the talking sheep, guides you as you build your farm.
Lively animals: they 'bah' and 'moo' as they roam around!
Love Points: make your critters happy to breed the best animals.
Black Sheep, Blue Cows, and Talking Horses...raise them all!
Connect with your friends: visit them and help them raise more animals!
Scatter seeds: you can grow Alfalfa, Cucumbers, Ginseng and many more. Even seasonal crops will appear.
Darling designs and decorative structures means your farm is unique and gorgeous! Some of these structures can produce Gold, Bells, Love Points or Exp Points.
Collection Book - Collect animals, decorations, recipes, Egg decorations
Breeding - Information on breeding animals and Love Points. Breeding Barn to breed with neighbors. Maybe try for a Panda!
Crops - All the information on crops you'd want to know. Harvest a crop in 1 min for Gold!
Buildings - Tells you what each building does, and includes information on building upgrades. Gifts and Love Points can be produced from the Buildings as well!!
Friends - Explains how to visit friends and use the messaging board's interface.
Events - Information on how to complete the current event during the game and a few tips.
Quests for Events - Quests that are linked to the Events Quests a list of possible quests Ben the sheep will have you to do for different rewards. This list only shows a few of the quests
Heroic Animals - The final tier for standard animals is here! These creatures have special skills and take lots of love.
Vacation Locations - Take your animals to the Beach or to the magical Toy Village.
Tiny Zoo - See the special new Wiki for Tiny Zoo
Adventurer's Cabin - Increase the mastery of your animals (Kind of replaced the Ranger's Cabin that's inactive now)
Strategy Guide - A little information about how to play the game
Currently updating as of January 2018
Create blog post
Tiny News
~Tiny News~

It's a Big Turtle traveling around the far ocean to take care of the Corals! The 6th new map Turtle Island is finally released!

It's snowing in Tiny Farm! Meet the new Winter Animals in Tiny Farm!

Collect Snow Coins to open Snow Lucky Bags!

2x chance of getting Black Tortoise from the Radia…

Read more >

Make the best Winter snack,Fishiyak! Check the event page for more info!

2X chance of getting White Tiger from the Radiant Tiny Egg!

Get White Tiger with the Special Chance from the Breeding Barn!

Read more >
See more >